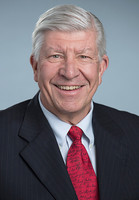 John Rice
Chairman of the Board
John Rice has extensive experience as a CEO, Lead Negotiator, Turnaround Expert, Business Financier and Crisis Management Executive/Consultant. Prior to becoming Chair and CEO of Sigma Labs, he was an interim CEO who turned around a Coca-Cola Bottling Company. As a CEO, Mr. Rice has run a variety of companies in diverse business sectors including design and manufacture of high-end jet engine test equipment for the U.S. Air Force as well as chaff dispensers for F16s, software for Naval warfare modeling exercises, software systems for controlling warehouse distribution systems, development of medical radio-isotopes, and cancer detection tomographic devices.
As a member of corporate boards of directors, Mr. Rice has led crisis management and financing negotiations for companies in the defense contracting industry, most recently in two unconnected companies: one that developed equipment that detects nuclear devices concealed in industrial shipments to the United States; the other developing advanced cybersecurity tools.
As an investor, Mr. Rice worked as a lead negotiator and operations expert in venture syndicates that built enterprises in cable TV, FM radio and Spanish-language TV and radio. He has served on a number of boards of directors. Currently, in addition to Sigma Labs, Mr. Rice is a Director of New Mexico Angels, Inc., a New Mexico-based group of accredited individual angel investors, and Akal Security, Inc. Mr. Rice is an honors graduate of Harvard College. He is an avid reader, expert skier, dedicated time trial cyclist, and a pathetic golfer.
Salvatore Battinelli
Director
Salvatore Battinelli, served as Vice-President of Development and Long Term Strategy of North American Management Corporation, a wealth management firm based in Boston, Massachusetts with over $2 billion in assets under management. From 1987 to 2011, Mr. Battinelli served as Executive Vice-President and acting Chief Executive Officer and Chief Operating Officer of Faneuil Hall Associates, Inc., a concierge boutique family office devoted to five interrelated ultra-high net-worth families. Mr. Battinelli's primary responsibilities while at Faneuil Hall Associates included providing planning and investment advice, the management of approximately 30 asset portfolios and more than 65 individual business entities; and assisting the families in their various business ventures worldwide. During his tenure at Faneuil Hall Associates, Mr. Battinelli served as an executive officer or director for certain of the family owned entities and successfully managed several portfolio company IPOs, including serving as CEO and COO for Designhouse International, a Scandinavian furniture company operating out of Atlanta, Georgia, which was listed on NASDAQ in August 1983. Mr. Battinelli also served as Audit Manager for Deloitte & Touche (formally Touche Ross), where he specialized in management information systems. Mr. Battinelli also served as the Chairman of the Board of Directors of HealthLink Europe, BV, a logistics and services company that serves the healthcare industry. Mr. Battinelli is a Certified Public Accountant and received a bachelor's degree in business with an emphasis on management accounting and an MBA with an emphasis in international economics and accounting, both from Babson College.
Dennis Duitch has served as Managing Director of Duitch Consulting Group, a private consulting company, since 2003. Prior to that time, he practiced public accounting, business management, mediation and consultancy nationally, with expertise in strategic and operations management, finance, accounting, strategic planning and business operations for a wide spectrum of companies, including technology, manufacturing and distribution, marketing, real estate, entertainment, and professional practices. He has served in executive officer roles and as a director of public and private companies, not-for-profit organizations, including as Vice-Chairman for Accountants Global Network, and as a top-level advisor for public companies, closely-held businesses, families and high-wealth individuals for over thirty years.
Mr. Duitch began his career with the international CPA firm Grant Thornton in its Chicago, San Francisco and Beverly Hills offices before founding Duitch & Franklin LLP, which evolved to become one of Southern California's largest independent CPA/Business Management/Consultancy practices, and which was acquired by a public company in 1998. He subsequently served as President for a consumer products company with direct response marketing, retail, and fulfillment operations, until forming Duitch Consulting Group in 2003 to serve clients in advisory, C-level, and board of director roles.
Mr. Duitch is a Certified Family Business and Estate Advisor, and mediator for matters including partner/shareholder agreements and disputes, business and marital property dissolution, and dysfunctional executive teams and boards of directors. He has lectured extensively in management, financial and accounting areas for the California CPA Foundation, business and professional groups, has instructed at several colleges and universities, and has authored technical articles in management and taxation for regional and national publications.
Mr. Duitch earned a B.B.A degree in Accounting from the University of Iowa and a Master of Business Administration in Finance from Northwestern University.
Mark K. Ruport
President and Chief Executive Officer
Mr. Ruport brings more than 30 years of public and private company experience in the software sector to his position at Sigma Labs as executive chairman.
Prior to joining Sigma Labs, Mr. Ruport served as Executive Chairman of Content Analyst Company, a leading developer of advanced analytics software for searching and analyzing unstructured text until its acquisition by its largest customer in 2017. Previously, he served as President and CEO of Configuresoft, a venture-backed Enterprise Systems Management company where Mr. Ruport orchestrated an OEM contract that later led to the acquisition of the company by EMC.
Prior to Configuresoft, Mr. Ruport served as Chairman and CEO of Optika, a venture-backed Enterprise Content Management Company that he led from a start-up of 30 employees through an Initial Public Offering, international growth and a successful transaction to merge with Stellent, Inc., which was subsequently acquired by Oracle. Mr. Ruport was also CEO of Interleaf, a public software company, and held senior executive positions at Informix (later acquired by IBM) and Cullinet (later acquired by CA, Inc.).
Mr. Ruport received a Bachelor of Science in Business and an MBA from Bowling Green State University.
Kent Summers was appointed to our Board of Directors on January 18, 2018. Mr. Summers was also appointed to serve as a member of the Company's Audit Committee, Compensation Committee, and Nominating and Corporate Governance Committee.
Mr. Summers currently divides his time among a number of independent activities which focus on early-stage technology company formation and development strategies, and sales planning and execution needs for emerging- and mid-market technology companies located primarily in the Boston metropolitan area, including: management consultant to private and family-owned businesses; volunteer Mentor and Instructor with the Massachusetts Institute of Technology Venture Mentoring Services program; regular lectures on enterprise, business-to-business sales to company founders and students enrolled at the Massachusetts Institute of Technology Sloan School of Management, the Harvard MBA Program, the Wharton School at the University of Pennsylvania, and a number of domestic and international entrepreneurship support organizations; and consultant to Fellows enrolled in the Harvard Advanced Leadership Initiative. Mr. Summers has served in those roles at various times from 2003 to the present. From 2009 to the present, Mr. Summers has served as the non-executive Chairman of CADNexus, Inc., and from 2017 to the present, director and Chairman of the Compensation Committee with iQ3 Connect, Inc.
From 2005 to 2017, Mr. Summers served as Managing Partner at Practical Computer Applications, Inc., a Boston-based database consulting and engineering services firm, where he was responsible for sales planning and execution activities. Prior to Practical Computer Applications, from 2001 to 2005, Mr. Summers provided independent merger & acquisition advisory services to support the sale of privately-owned companies. Over a prior 14-year period, Mr. Summers served in leadership roles at several software and internet start-ups, including: Chairman and CEO of Collego Corporation (acquired by MRO Software), founder and CEO of MyHelpDesk, Inc. (acquired by Support.com), founder of PCMovingVan.com (acquired by a PE firm), and Vice President of Marketing at Electronic Book Technologies, Inc. (acquired by INSO Corporation, formerly listed on Nasdaq).
Prior to the software industry, Mr. Summers served as Technology Analyst at Electronic Joint Venture Partners LLC and Associate Program Trader on the Options Trading Desk at Bear Stearns & Co. In 1986, Mr. Summers received a BA in English from the University of Houston.